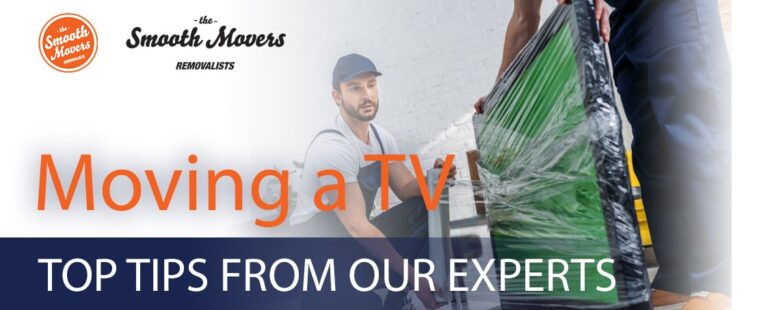 Suppose you're planning a relocation and want to transport a TV safely. In that case, it's essential to know that packing this fragile item alone can create problems. It is highly recommended that two people handle the task due to its delicate nature.
If enlisting professional help is outside your budget, at least take advantage of these tips for minimising stress while saving time and money on successful self-relocation of your television.
Discover our essential guide on how to transport a TV securely – a worthwhile skill for knowing how to protect your tv when moving. Explore our top tips that guarantee a safe transition for your television, allowing your family to continue enjoying their favourite shows in your new abode.
Comprehensive Guide On Packing Your TV For a Move
Keeping the original box for your TV might be challenging with the size and space constraints. But, let's admit, nobody wants piles of empty boxes cluttering their garage.
Even without the original packaging, there are ways to securely transport a TV to a new home, eliminating risks of damage, screen scratches, or accidents. To top it off, you can also create a customised TV moving box – safe, practical, and tailored to your needs.
Things You Will Need
Bubble wrap
Hefty cardboard boxes
Tape
Blankets for furniture
Straps for transporting
Ziplock & rubber band
Step 1: Gather Supplies
Congratulations, you're ahead of the game if you managed to hold onto your TV's original packaging! But if not, don't fret – reach out to your moving company or truck rental store to get moving boxes explicitly designed for flat-screen TVs.
First, measure your TV and opt for a double-walled box to guarantee its protection. Then, gather a foam sheet or bubble wrap, packaging tape, zip lock or rubber band, and a packing bag to create the perfect moving boxes for your valuable entertainment device.
Step 2: Disconnect All Cables and Wires
Begin by safely unplugging and detaching every wire and cord connected to your television.
Snap a picture of the rear side of your TV before unplugging any cables – it'll be your trusty roadmap to ensure each cord finds its way back to the right spot.
Need an extra boost of confidence to reconnect your TV after moving it? Label all the cords, affix a piece of tape around them and jot down their corresponding electronics for clear identification. Utilising this simple method can help you quickly restore order in no time!
Simplify your moving process by matching and securing cords with their respective devices, like PlayStations or DVD players. Neatly coil the cords and adhere them to their corresponding devices. Ensure everything is organised by packing each device with its cords and remote for effortless reassembly later.
Staying organised and keeping track of your belongings is crucial during a significant move. For a seamless TV relocation, carefully coil up the cords and store them in a bag, along with the remote control. Keeping everything in one designated place will simplify your move and prevent missing items.
Save time, effort, and potential damage to your TV ports by detaching electrical cords before moving the television.
Step 3: Clean Your TV
Remember to consider thoroughly cleaning your TV before packing it up! Dust hiding in the vents can wreak havoc on the electronic components. At the same time, trapped particles between the packaging and the screen can cause harm due to friction during the move. So keep your TV in tip-top condition by ensuring it's dust-free before packing.
First, to properly and safely clean your TV, use a compressed air duster to eliminate dust from those hard-to-reach areas. Then, gently wipe down the screen with a delicate microfiber or cotton cloth—remember, always apply the cleaner to the fabric, not directly to the TV.
Step 4: Cover or Wrap Your TV
Shield your TV from potential harm during transportation by enveloping it with a dust protector or a soft blanket devoid of metal accessories, such as zippers or buttons. Secure the blanket snugly using tape, minimising excess material while maintaining sufficient room for the TV to fit seamlessly into its box.
Step 5: Place In The Box
To safeguard your TV during a move, position the box upright and have two people gently slide the TV in. Next, enhance protection by filling empty spaces with materials like Styrofoam peanuts or bubble/foam wrap. Lastly, seal the carton thoroughly.
To ensure your TV's safe relocation, pinpoint its screen location for the movers to avoid placing harmful objects near it. Next, enhance the handling process using labels like "THIS SIDE UP" for optimal orientation. Finally, note the model number on the packaging and list, prepping your TV for a seamless moving experience. Learn more from our comprehensive moving house checklist.
Step 6: Load Your TV
Ensure your TV remains secure during transit by positioning it upright and elevated within the moving truck or car once adequately packed and prepared. This alignment is crucial for its protection.
To ensure your valuable item remains safe and protected during transit, nestle it snugly between cushioned objects like a sofa and mattress. For added security, fasten it to a wall with the screen facing away, using a bungee cord – just be sure not to let the cord touch the screen to avoid scratches or damage.
Ensure your TV's safe and secure relocation with these tried-and-tested steps. But if a more confident approach is preferred, consider engaging the expertise of Perth's finest TV movers.
Expert Packing Tips
Ensure a well-organised packing by including the remote and power cord alongside the TV
Avoid the nightmare of arriving at your new home and discovering the loss of essential items, like power cords or remotes. Instead, save yourself the frustration by securely packing them with the TV, ensuring a smooth transition into your new space.
Consider Humidity
Imagine transporting your flat-screen TV across borders or prepping it for extended storage. One key factor you'll want to tackle is humidity, which can harm your electronics. Investing in silica gel packets and positioning them around the TV before wrapping will effectively eliminate moisture threats throughout its journey.
Markers
When it comes to packing televisions for a move, an efficient approach is essential. Grab a sharpie or a permanent marker, and start by clearly identifying the TV's top, front, or screen, ensuring you always know which side needs extra care. If you have more than one TV to pack, save time and confusion by labelling them by location (e.g. "Living room TV" or "Guest room TV"), moving in with roommates? Stake your claim by adding your name to the label, allowing a seamless transition to your new space without the hassle of unpacking for identification purposes.
Place the Packed TV Strategically Within Your Unit
Ensure the safe relocation of your TV by maintaining its upright position and avoiding stacking items atop it to prevent screen damage. For optimal stability, securely nestle the TV amidst other boxes to minimise wobbling while in transit.
Can You Lay a TV Down When Preparing For a Move?
To ensure your flat-screen television remains damage-free during a move, remember to keep it upright and elevated. Laying it flat exposes it to unnecessary risks such as scratches, cracks, and other external damages. Instead, protect your TV by investing in a suitable moving box designed for secure transportation.
Seek Help From Professional and Reliable Smooth Movers
Excited to enjoy your cherished flat-screen TV in your brand-new abode? Ensuring meticulous packing and moving of your TV will prevent any potential cracks, dents, or damage during the transition. Thus, you can effortlessly resume indulging in your top shows and films in your new living space.
Contemplating whether to move your TV? Instead, consider donation. And seize the opportunity to donate your furniture too. You can then upgrade to a sleek, larger flat-screen for an enhanced viewing experience and a freed-up space.
Need help figuring out how to transport your flat-screen TV? Let us do the heavy lifting for you! Our expert removalists are just a call away. We'll arrive promptly and carry it safely for you – no more awkward manoeuvring around those tight corners.
Not convinced yet? Get an instant quote here. Moving a flat-screen TV can be hassle-free with our dedicated and efficient service. Look no further – we have your needs covered! Call our friendly team of TV movers today!