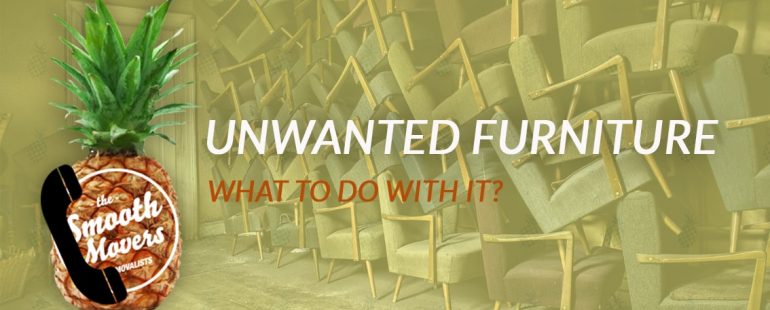 Just because you are done with a piece of furniture does not mean its only destination is a rubbish tip. There are several reasons you might have furniture you need to get rid of and you looking into what to do with unwanted furniture in Perth. You might have splashed out on a new couch finally, inherited a new table and chairs from a relative, or perhaps you are looking at what to do with unwanted furniture when moving. Your new home might already come furnished, or you might have made the choice to buy new when you move. If you are moving interstate perhaps you prefer not to take all your furniture with you such a distance. You have more options then you might realise and it only takes a little time or research to find somewhere to take it. Here are some of those options including people who will come to you to pick it up and drop off locations depending on your transportation options.
Who picks up unwanted furniture
Donating furniture has become increasingly popular as more people realise the value of re-purposing and reusing items rather than just throwing things away. It is a way to save money and better for the environment. You might not have a use for that couch, but someone could take it, add some more cushioning, re-cover it, and there is a great couch for someone else. If you are looking for someone to come and pickup unwanted furniture you actually have more options than you might have thought.
Moving house can be very stressful especially if you transport a TV, a washing machine, and other heavy or delicate items. You need to find moving boxes, pack all your belongings and it takes a lot of planning and organising for a successful move. Getting rid of unwanted furniture before your move can make your life a little bit more hassle-free.
So without further ado, here are just 5 of those options;
Where to drop off unwanted furniture
Above is a list of some of the places that will come and collect your unwanted furniture. You can also drop off furniture to any of them. But places where to drop off unwanted furniture in Perth include;
No Limits Perth – Accepts donation of used furniture as long as it is not damaged, or stained. They help a number of people in need including low income and vulnerable families, the elderly, those who are victims of domestic abuse and those who have hit hard times.
Anglicare WA – You can bring accepted donations to the store or they do offer weekend pickups but you have to book them. They do not take bed frames and furniture needs to be in okay condition.
Friends With Dignity – Working with victims of domestic violence and refugee groups to help families re-build new lives.
Where to sell unwanted furniture
With over 48,000 tonnes of furniture discarded per family per year sitting in landfills, if you are not donating your old furniture you could instead make a little money and sell it. When looking at where to sell unwanted furniture, here are some ideas.
Where to throw away unwanted furniture
If you have furniture that is broken, stained and just too used and no-one wants it then these are your options for where to throw away unwanted furniture. Since many places will not take old mattresses this is also what to do with an unwanted mattress.
Tamala Park Waste Facility – Open every day, even on public holidays and open for drop off from 8 am to 4.45 pm.
West Metro recycling centre – Open every day, but does not accept everything. Does take used & unwanted mattresses.
City of South Perth Waste facility – Open Wednesdays to Sundays, 8 am till 2 pm.
Conclusion
When you are moving house and you have found a place for your unwanted furniture you also need to think about which removalists you are going to use. The key is to look for a professional, experienced and qualified company such as The Smooth Movers. We are affordable and trusted Perth removalists and get the best reviews for good reason. Reliable, friendly and affordable, we will help make moving a smooth process and lift some of the stress from your shoulders.